Do you want to know which is the 18th most valuable company in India?
Do you wish to know the story of the birth of D-Mart?
Do you want to know the story of a self-made billionaire Radhakishan Damani?
If your answer is yes to all these three questions, then this article is for you. Here, I will be telling you about the inspiring story of D-Mart's Radhakishan Damani and how he became a self-made billionaire from being a small Dalal Street stockbroker.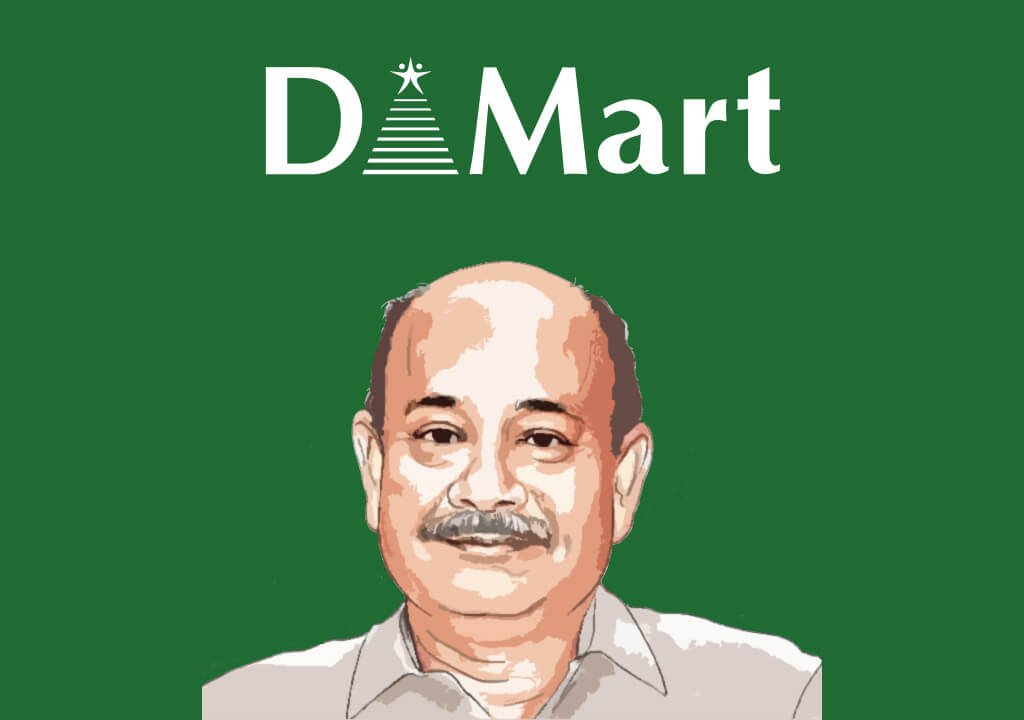 Who is the founder of DMart?
The story starts in the city of Bikaner, Rajasthan where a boy was born to a Marwari family on 15th March 1954. This boy is now well known as the "King of Damani Retail Business"- Mr. Radhakishan Damani. He was born into a family of business and therefore had an inclination towards launching a business of his own.
He got admission to B.com.- Bachelors of Commerce from the 'University of Mumbai', but soon dropped out of the course to become a stockbroker at Dalal street. After working as a stockbroker he realized that if he wants to earn more money from the market, he would have to invest his own funds. As a result, he started investing his savings in the markets and earned huge profits from multi-bagger companies over the years. He was a flexible trader and took advantage of the market swings efficiently. His portfolio had money-making companies such as Century textiles, Indian Cement, VST Industries, TV Today Network, Blue Dart, Sundaram Finance, 3M India, Jubilant FoodWorks, etc.
He was also involved in a ball-bearing business with his father for a brief period of time. Later, after the death of his father, he started his own stockbroking business.
He marked the beginning of this entrepreneurial journey with the opening up of a stockbroking business. After a few years, when he was at his high, he suddenly decided to quit the stockbroking business. He wanted to enter the retail business. Even as an investor he used to invest in similar companies and gradually realized the sector's growth prospects. This led to the discovery of D-Mart and also marked the beginning of the success story of D-Mart.
It is a lesser-known fact that the first department store chain that Damani started was 'Apna Bazaar'. This was a cooperative department store chain set up in 1997 and he bought a franchise of the same. After 2 years of running Apna Bazaar, Damani felt unconvinced with the model and wanted to shift to the retail chain industry. After extensive research and discussion, he launched the famous D-Mart. Later on, D-Mart acquired Apna Bazaar.
How did D-Mart turn so profitable so fast?
Radhakishan Damani set up the first D-Mart store in Powai, Mumbai in 2000. He wanted to position D-Mart as a one-stop supermarket and hypermarket chain in India. His target audience was middle-income households and all the stores were set in high traffic areas and urban cities. The main goal of these stores was to provide products that were value for money. The supermarket provides numerous discount policies and promotions to attract customers and increase sales. Every store provides at least a 3 % discount on its products.
In addition to this, the company runs self-owned stores which saves a lot of costs on debt. This is one of the unique selling points advantages that D-mart had over its competitors as other retails stores prefer to open stores at a leased space. This decision benefited D-Mart in such a way that they never had to close a store till now. Every store serves all home utility products ranging from beauty, food, stationery, toiletries to garments, linen, bedsheets, etc.
Also, he did his study before opening the first store. He used to visit numerous similar stores in the industry to get an idea of the operations.
After almost 17 years, Radhakishan Damani launched D-Marts IPO in 2017. The IPO turned out to be a great success.
The details of the IPO are as follows:
IPO Dates:                             8th to 10th March, 2017
Face Value per share:          Rs 10
IPO Price range:                   Rs 295 to Rs 299
Stock exchanges:                 NSE and BSE
Issue size:                              Rs 1870 crores
Lot size (min):                       50 shares (1 lot)
Lot size (max):                       650 shares (13 lot)
How is D-Mart doing today?
As of now, D-Mart has around 214 stores spread across Andhra Pradesh, Maharashtra, Karnataka, Telangana, Gujarat, Madhya Pradesh, Tamil Nadu, Punjab, Chhattisgarh, NCR, and Rajasthan. All D-Mart stores are owned and operated by Avenue Supermarts Ltd. (ASL). The company has been serving its customers through three types of stores:
1.    Express centres (Area of 7,000-10,000 sqft.)
2.    Hyper markets (Area of 30,000-35,000 sqft.)
3.    Super centres (Area of 1,00,000 sqft.)
All stores have a simple outlay which makes it easier for customers to shop. The company has been receiving a positive response from its customers and continues to have repeated sales from them. It is true to its brand name and the customers trust the products provided at stores. Moreover, with low-priced products available, customers tend to buy in bulk, therefore increasing the sales revenue of the company. People prefer going to D-mart as they can get everything under one roof and this makes the shopping experience so easier. Also, D-Mart stores are placed in very approachable areas like residential areas, markets places, etc. which has improved the reach of the stores tremendously.
D-Mart success is also a result of their major focus on three core aspects, which are:
Avenue Supermarts Limited is the parent company of D-mart and also owns other brands named D-Mart Premia, D-Mart, Dutch Harbour, D-Mart Minimax, D-Homes, etc.
Financial Highlights of D-Mart
The current market capitalization of the company is around Rs 184,696 crores
The company has increasing Operating profit over the years with a current operating profit margin of 9% (as of Dec 2020)
The level of Earnings Per Share (EPS) has been increasing. The current EPS is 6.9 (as of Dec 2020)
The sales figures have double since 2017 and increasing
The company faced only a small setback during the lockdown. Its sales still were good as a part of the FMCG sector
Net profit has doubled since the listing of the company
Compounded Sales Growth is at 31% for 5 years and 28% for 3 years
The company has delivered good profit growth of 43.76% CAGR over the last 5 years
The company has a large amount of reserves
The level of debt has reduced over the years and nearly halved since 2019
Promoters holdings are at 75% which is a good
A Few Interesting Facts About Mr RK Damani
He is also known as "Mr White and White". This is because he is fond of wearing a simple white shirt and white trousers
He always avoids public events and media
He is known to be very humble in nature
He is an incredible swing trader and investor
He is also known as the Warren Buffet of India
He believes in "Stay foolish, stay hungry"
Rakesh Jhunjhunwala, an ace level investor, consider Radhakishan Damani as his guru in the Indian stock market
His current net worth is $ 14.5 billion
He is the 8th richest person in India according to the Hurun India Rich List 2021
He owns an investment firm named "Bright Star Investments Limited"
He also made profits by short selling stocks which were inflated by Harshad Mehta
D-Mart's Radhakishan Damani inspiring success story has changed the lives of many. DK Damani as a person, investor, and entrepreneur has excelled at all. He's a humble person who thinks of himself as a less educated person, and even though he is a shy person, his success made the roar for him. In addition to this, he has been an amazing mentor for many in the stock market including Rakesh Jujhunwala. Damani made gold of everything he touched be it investing, shorting, stockbroking, or being a successful owner of a leading retail business.
Recommended: Understanding the rise of Nazara Technologies
His creation D-Mart has a conservative but profitable approach. This was all possible due to the extensive research he did on the market and customer mindset. All of this has led to where D-Mart is now.
This was the journey of how Radhakishan Damani established himself as a self-made billionaire and as the "Retail King of India".
I hope the success story of RK Damani inspired you and I hope you also learned a lot from it.
Anyway, that's it from us this week. Hopefully, you found this story insightful.
Until then…
Share this Newsletter with your friends.