Is it a good idea to keep holding stocks forever as an investor or is it good to sell them occasionally and make profits to reinvest?
The trick is not to learn to trust your gut feelings, but rather to stand by your stocks as long as the fundamental story of the company hasn't changed. Always remember "When you sell in desperation, you always sell cheap."
Let's take an example, the share we are going to discuss will be Escorts Limited. The reason is that nothing is fancy here, the stock has good fundamentals hence the good growth.
The stock price was hovering around 100–200 between 2011–2015 but it went up 970 in 2018. That's a 10-fold return on your investments. If you have invested 1 lakh rupees then you would have made a profit of 9 lakh approx.
Now, this kind of profit is only possible if you can hold a good stock with great business for 5–10 years. And if the fundamentals of the company are still the same then don't sell. Hold the stock for another 10 years and see the magic. You can always sell 5% of your total holdings to get some cash but never sell more than 10% as you can hold these kinds of stock forever.
So if you would have sold 10% of your holdings, you would get back your initial investment of 1 lakh which you can utilize to further invest in other great companies.
And to conclude, I think it's better to hold the shares of great companies forever, as their value will only appreciate with time, provided the story and fundamentals behind the company doesn't change.
Have patience, don't let the temptation to make a quick profit take over you.
Few other examples:
1. TITAN COMPANY
If you will sell the stock of Titan, do you think you can buy it again for 50, 100, 200, 300 rs? Seeing the above chart, I don't think so.
2. TCS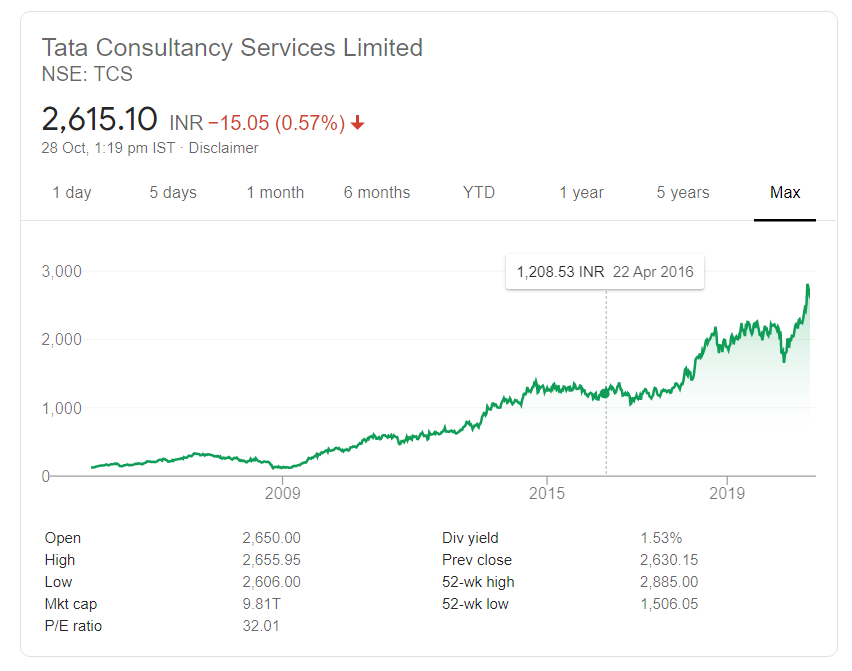 3. Reliance
Now ask yourself this, can you purchase these stocks at an earlier price point? Even though you can see two major crashes (crash of 2008 and other more recent crashes in March 2020 due to COVID-19) you won't be able to purchase these stocks at those prices.
Happening's Around the Stock Market (25-02-2021)
Foreign portfolio investors (FPIs) sold shares worth Rs 8295.17 crore, while domestic institutional investors (DIIs) bought share worth of Rs 1499.7 crore.
Global markets trade deep in red amid concerns of rising bond yield.
Sensex logs sixth-biggest fall ever: Sensex fell close to 2,000 points to close at 49,099 today. Nifty fell by 586 points to close at 14,529. It was the single-day biggest drop since May last year. Here are the factors which contributed to today's fall: rising bond yields in the US, rising Covid-19 cases, Geopolitical tensions (US bombing Syria), and heavy-profit booking by FPI's.
Investors lost nearly Rs 5 lakh crore in afternoon trade today after Sensex crashed over 1,939 points.
Gold prices on Friday declined by Rs 342 to Rs 45,599 per 10 grams and Silver plummeted by Rs 2,007 to Rs 67,419 per kg.
Rupee tanks 104 paise to close at 73.47 against US dollar.
Stock in News (25-02-2021)
Hatsun Agro commences production at its new facility in Solapur, Maharashtra.
HCL Tech subsidiary HCL America approves issuance of up to $500 million bonds.
Bank of Baroda launches Rs 4,500 crore share sale. The floor price of the QIP is fixed at Rs 85.98.
NCLT grants more time to DGCA for responding to the Jet Airways slots issue.
State Bank of India prepares Mutual Fund Venture for IPO. State Bank of India and Shapoorji Pallonji Real Estate signed an MoU to enable faster processing of home loans, approvals, and other benefits.
Dewan Housing files resolution application of Piramal Capital & Housing Finance with NCLT. Later in the evening, RBI accepted its resolution plan.
Bharti Airtel to buy 10% in Tata Group's Ferbine. "The Investee Company has been incorporated on January 18, 2021 to make an application to RBI for the PUE license. The main business of the company would be to operate a pan-India umbrella entity for retail payment systems, as would be allowed/ licensed by RBI, subject to approval of the PUE application," Airtel said in a notice to the stock exchanges Friday.
HDFC Bank to pick up 9.99% stake in Tata Group's Ferbine.
Infosys to hire 300 local works in Pennsylvania as a part of its ongoing hiring plans in the US.
Mahindra Lifespace Developers acquire nearly 8 acres of land in Bengaluru for developing a residential project.
DHFL has filed an application with NCLT for submission of resolution plan of Piramal Capital & Housing Finance Ltd (PCHFL).
Ashok Leyland completes acquisition of 38% shares in Hinduja Tech from Nissan International for a total consideration of Rs 70.20 crore.
RailTel IPO listing: The share listed on a strong note at Rs 109 today on NSE and made a high of Rs 123.65 (up to over 30%).
South Indian Bank to share to raise Rs 240 Cr from Life and General Insurers.
Airtel to seek shareholders' nod to issue 3.64 cr shares to LMIL for Bharti Telemedia deal. The company recently raised $1.25 billion through overseas bonds.
Kotak Mahindra Bank has agreed to buy a 9.99% stake in the payments infrastructure company Ferbine Pvt. Ltd for Rs 49,950.