Is now a good time to invest in the stock market?
There is no right to invest in the stock markets. And I can confidently say that today is the right time to invest in the stock markets, which applies even if you're reading this article at a later date. You might think that this guy is just too much, but wait, first, hear my thoughts and analysis behind this theory.
Now why I say that the best time to invest in the stock market is today? Well, because you are simply not asking the correct question. Instead, you should be asking – "In which companies should I invest?"
In the long run, you will see that the market never disappoints. It keeps breaking its previous high every 7-8 years, which is evident from this post: Why you shouldn't worry about the Stock Market going higher or lower?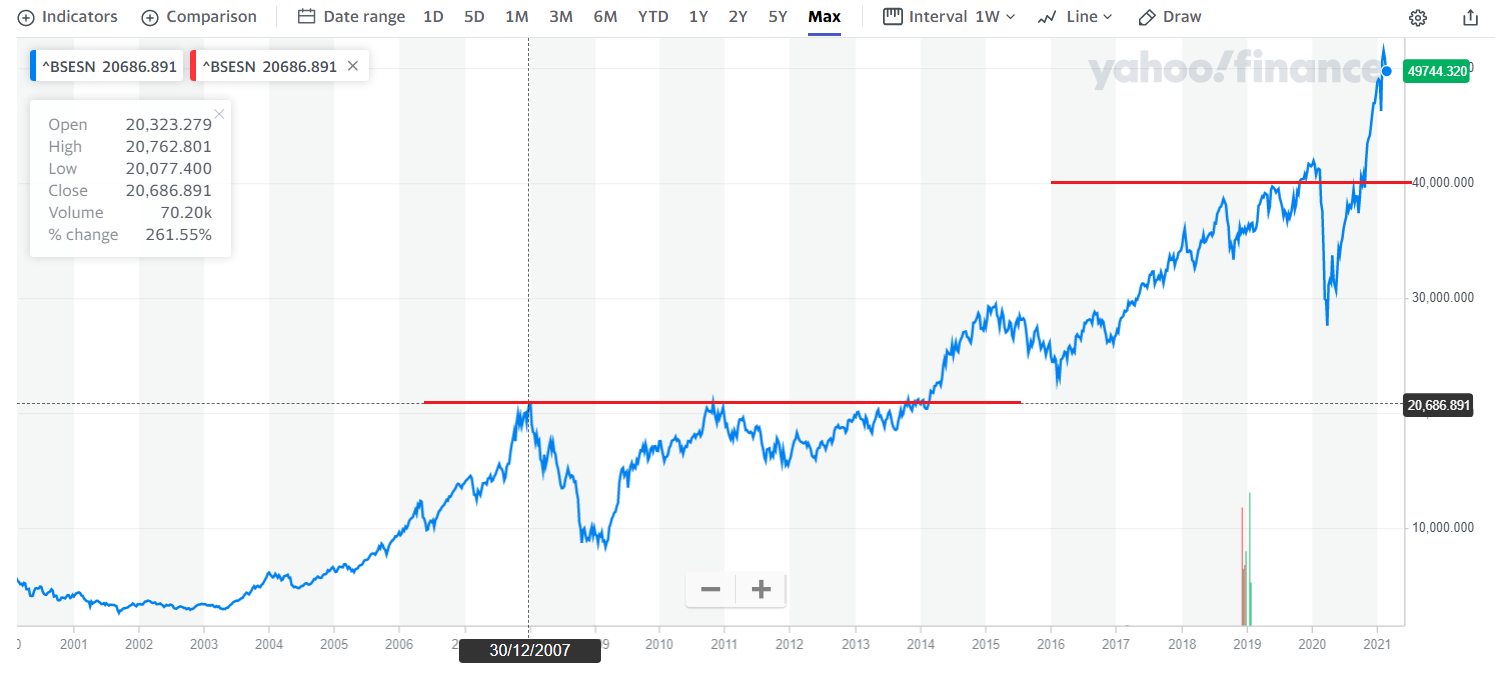 Choosing the right stock is crucial because people who invested in stocks like Infosys, HDFC, Reliance, TCS, Wipro, etc., made money. In contrast, people who invested money in stocks like Rcom, HDIL, Suzlon Energy, Yes bank, PC jewellers, etc., lost all their money.
Now you know, choosing the right stock matters the most instead of choosing the right time to invest. Although choosing the right time to invest your money can give you multi-fold returns, but I suppose it's better to focus on stock selection. This is because even if you can't perfect your entry and exit from the stock market, you will still make money provided you invested in fundamentally sound companies.
Thousands of investors receive my practical, time-tested insights on money and investing delivered straight to their inbox.
* No charge. No spam. Only wisdom.
Whereas if you have invested in companies like Rcom, Yes Bank, etc., with perfect entry and exit from the stock, you will still lose all your money or the majority of it. So we can safely say that stock selection matters the most, whereas timing the market is close to impossible. However, you can still decide if the stock you are investing your money in is cheap or overpriced (overvalued) using the companies financials.
One important thing that I should discuss is that never invest all your money into the market at once. Invest in small amounts, keep learning about the stock market, how it works, how to read the companies' balance sheet, etc. And as the saying goes, "Don't Put All Your Eggs in One Basket," never invest all your money into one single stock or a company.
Always remember that you're not investing only once, but at multiple times throughout your life. And investing in equities will only deliver returns when you invest for a 5-10 year period, and between that period, you will definitely see a lot of price fluctuation.
Example: The Escort stock didn't move much in the 6 year period from 2010-2016, whereas the market and other stocks were performing really well. If you had invested your money in Escort, you would have become frustrated and sold all your positions in this stock. But if you are a value investor and you invest for 10 year period, then in the next 4 years (from 2017 to 2020), the stock gave 10 fold returns. The stock price was around 200 in 2016, and in 2020 it was around 1200.
So the second important takeaway from this article is that have patience in the stock market. You won't get rich overnight, and you're bound to make mistakes, so diversify your portfolio, i.e. invest in different companies from different sectors.
Happening's Around the Stock Market (01-03-2021)
Foreign portfolio investors (FPIs) bought shares worth Rs 125.15 crore, while domestic institutional investors (DIIs) were net sellers to a tune of Rs 194.88 crore.
NSE's India VIX fell 5.56% to 26.57.
MTAR Technologies Limited (MTAR) IPO open on March 3.
As per government data, India's GDP increased 0.4% during the third quarter ended December 31, 2020. This is indeed encouraging Q3 GDP data.
Indian manufacturing PMI for February at 57.5 remained at similar levels of 57.7 in January.
Stock in News (01-03-2021)
RSBVL, a wholly-owned subsidiary of Reliance Industries, has raised its shareholding in investee company skyTran Inc to 54.46 %.
DLF plans to raise up to Rs 395 crore through the issue of debentures.
Bharti Airtel wholly-owned subsidiary Airtel Digital has agreed to subscribe to 5,000 equity shares (10%) in Ferbine Private Limited.
Axis Bank board approves reclassification of United India Insurance Company Ltd (UIICL) as a public shareholder category investor from the promoter category.
Gayatri Projects receives downgraded credit ratings from CARE due to delays in debt servicing.
KEC International bagged new orders of Rs 1,140 crore across its various businesses.
Biocon subsidiary and Viatris secure European Medicines Agency's Committee for Medicinal Products (CHMP) nod for Abevmy (Biosimilar Bevacizumab).
RailTel Corp has been assigned the orders of Rs 105.82 crore by the Ministry of Railways.
Maruti Suzuki exports crosses 20 lakh vehicles from India.
Indian Oil Corporation (IOC) to invest Rs 32,946 crore in expanding its capacity of Panipat Refinery.
Minda Industries receives NCLT approval for the amalgamation of Harita, Harita Venu, Harita Cheema, Harita Financial Services, and Harita Seating Systems with Minda Industries.
Affle (India) board approves fund-raising up to Rs 1,080 crore.
NLC India issues commercial paper worth Rs 300 crore.
The government extended the deadline for submitting preliminary bids for buying its 26 % stake in BEML till March 22.